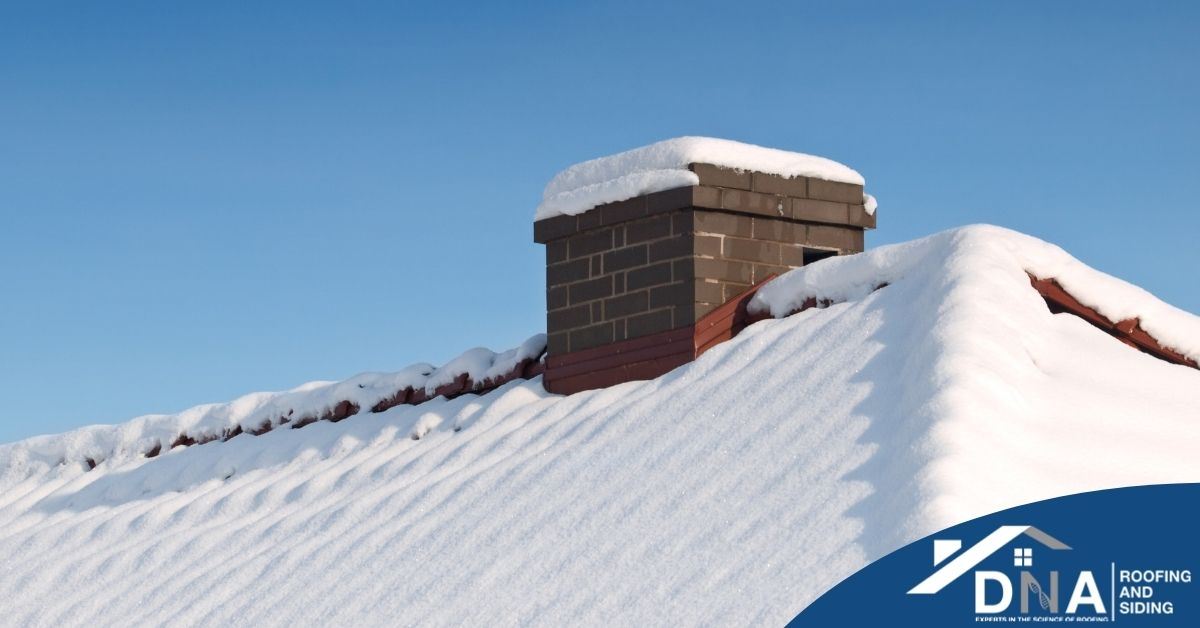 Winter Roof Maintenance
Your roof is arguably the most important part of your home. As winter weather sets in and you're hunkering down in the home to keep warm, a solid, sturdy roof is as crucial as ever. In preparation for the chilly weather and storms ahead, the team at DNA Roofing and Siding is here with a few maintenance and repair tips to equip your roof with what it needs to keep your home and family safe this winter.
Threats to Your Roof
Before we jump into how to guard your roof this winter, let's discuss some of the biggest threats your roof is up against.
Fallen trees and power lines
Snow, hail, rain, and sleet
Rats and other pests
Wind
By following our advice for maintenance and repairs, your roof should be as equipped
as possible to handle any threats this season.
Maintenance & Repairs
Flashing
Roof flashing is made of thin metal, like copper or aluminum, and is used to divert water away from certain parts of your roof. It is typically installed on walls, valleys, and around your chimney.
If flashing becomes damaged it leaves the materials below it exposed - making it vulnerable to leaks.
Leaks can cause extensive damage to your roof and to the interior of your home. It is important to repair flashing as soon as possible in order to avoid costly and devastating water damage.
Gutters
Snow and ice tend to build up and clog your gutters. Throughout the winter season, we recommend regularly inspecting your gutters for ice dams, or accumulations of ice. These dams will keep water from flowing freely through the gutters and weigh them down, creating additional problems for your irrigation system and roof.
You can get rid of an ice dam by slowly pouring a stream of hot water over the area to help the ice melt. Or, if you know a sunny day is on its way, remove snow from atop of the ice dams so the sun has direct access to melt the ice.
Snow Removal
Snow removal is an important part of winter roof maintenance. Piles of snow add excess weight that can hurt your roof. As the snow melts and refreezes it will begin to create more ice dams across the roof.
If you're able to, don't allow large mounds of snow to sit on your roof for extended periods of time. This will lower the risk of a leak and other damage.
Wind Damage
Wind is a threat to your roof not just in the winter months, but throughout the year. In a bad enough wind storm, shingles can blow away, leaving bald patches across your roof. These exposed areas are then vulnerable to the elements and could increase your risk of a leak.
At the first sign of wind damage, give your roofing team a call to patch up those bald spots and protect your home again!
Ventilation
A poorly ventilated or insulated attic can have a direct impact on your roof this winter. Proper ventilation will keep your home from developing wood rot, mildew, and mold growth which can decrease the integrity of your home's structure. Insulation will allow your roof to help keep your home warm despite the cold temperatures outside.
Make sure you or your roofing contractor inspect your attic and add insulation and ventilation as needed.
Roofing Solutions for You
If you're in need of an inspection, repairs, or general roofing maintenance, the team at DNA Roofing and Siding is here to help. Give us a call at (302) 548-3299 and we'll discuss how to keep your home safe this winter.